weekend adventures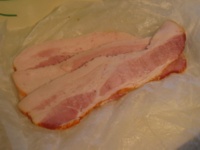 Our friend N from Maryland visited this weekend, and arrived bearing marshmallow donuts and the Best Bacon Ever, bless her heart. Bacon from the Hollins Market in Baltimore is thick-cut, super-fatty, and wicked smoky — when we first saw it in the market last fall, it looked so luscious I had to buy some and finagle it home on the plane. While we were at it, we got some smoked ham hocks too, for winter melon soup, which were so superior we won't use any other hocks. (Hollins Market is also the home of Chuckie's Fried Chicken, the Best Fried Chicken Ever, but that's another story.) And so now whenever we visit her or she visits us, fabulous pork products end up in our kitchen.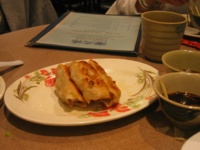 yeah, ok, so there's only 3 in the picture…
I was distracted by eating the first 6 or so
before I remembered to photograph –
can you blame me?But wait, there's more: the 3 of us hooked up with littlelee & spleen to get busy with the awesome homemade dumplings at Taiwan Cafe in chinatown. Normally tallasiandude & I go there, order dumplings and something else (to fill the 20 minute wait for made-to-order dumplings), and can't even finish the one order, so this time we brought reinforcements so we could order multiple dumpling types. It paid off handsomely. The pork-shrimp pan-fried dumplings were the best they've ever been, perfectly crispy bottoms with thin, tender tops, and the xiao lung bao were enormous and floppy with their cargo of delicious pork soup. The other dim sum things were pretty good, but not extraordinary, but we did order a Fu-chou style fish ball soup that was a knockout. The fish balls were the usual firm white smooth fish paste, but inside is a dark savory nugget of pork: two great tastes that taste great together. The balls were floating in a clear broth with lots and lots of pepper (yum), green onion, and tiny bits of celery in the bottom.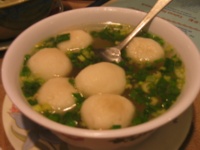 And last night for dinner we acted on tallasiandude's craving and went to Kaya in Porter Square for the DIY Korean BBQ. They have terrific kalbi, super buttery and flavorful, and the bulgogi is damn good too. And the soft tofu seafood chigae is all that tallasiandude said it would be. It's very spicy, with a buttery broth, and a wonderful texture that comes from the abundance of pillowy, disintegrating soft tofu. And they have chamisul soju, which not only makes you pleasantly tiddly in short order, but tastes great with kalbi.
All that plus some yummy vietnamese dessert treats (agar-agar in thin coconut milk, red beans in thick coconut milk, neon-green sweet rice with coconut milk), a box full of takeaway egg tarts and lotus seed moon cakes, and a last minute goodbye dinner of beef pho and Christina's ice cream. (Speaking of which, Christina's concord-grape sorbet is excellent.) A high-quality eating weekend — oh, and we did some sightseeing and stuff too. *grin*